Chris Posted on November 28 2018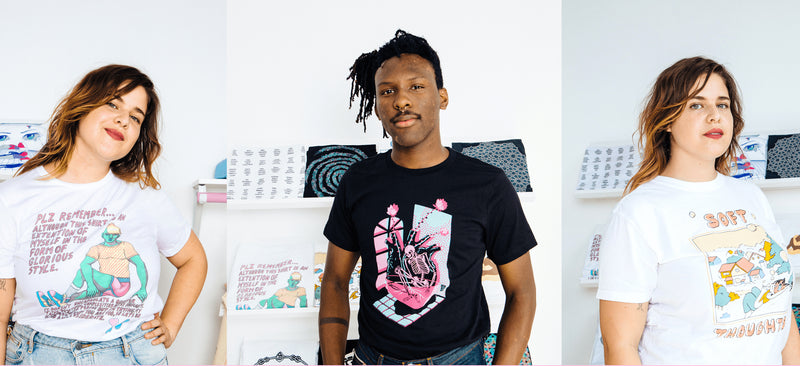 Written by Jen Rachid and Photographed by Jinni J
The Raw Paw Artist Series is a project that we're really overjoyed about. At Raw Paw's core, we have always strived to use our craft and resources to support and spotlight artists. With this series we get to do just that. We combine our love of screen-printing and community to commission 6 artists for a design that becomes an exclusive run of merchandise. Vol. 1 of this series features artists that have been in our Austin orbit: Xavier Schipani, Nat Bradford, Annie Lynch, Baylor Estes, Laura Lewis, & Montsho Thoth.
We are always on the lookout for artists we want collaborate with; feel free to drop us a line at hello@rawpaw.ink.
*Real limited stock left, click the images to get one in the shop today!
Xavier Schipani
Schipani is an Austin-based artist you may have come across while roaming around Austin as his murals can be seen outside of Irene's, la Barbecue, and downtown. I always find Schipani's work to be right on the money of what culture is currently processing. I admire his ability to be vulnerable with his own trans-journey and to create from that place, as his work deals with identity and what it means to be masculine and moreover human. If you find his work to be sexually charged you would be right, and in his own words "pleasure and sexuality are important themes of my work, seeking to create positive energy surrounding bodies often in turmoil." Check out his design appropriately entitled, Tender Club.
Annie Lynch
I met Annie at Cheer Ups; she has a gentle and sweet presence that's hard to come by especially at bar. From that interaction, I had no idea that she spends her time making art, but later I scoped her Instagram and was delighted to discover her beautiful collage work! Her pieces are a mixture of collage and illustrative strokes, putting retro-femmes front and center and making something that elegantly intertwines modern pop art and the emotive power of nostalgia.  I fell in love with these collages and had my fingers crossed that we would be able to make it come to life through screen-printing. Luckily, we were able to pull it off using a CMYK process print with spot color of true blue!
Baylor Estes
Baylor came to a party at my house 8 or so years ago and I feel lucky that he's just been in my life ever since. He has been a part of the DNA of Raw Paw, always willing to lend a helping hand and his artistic skill set. You may have seen on posters all over town; he's made posters for your local band favorites as well as bands like Man Man and Ratatat. On top of his authentic illustrative style, Baylor has quite the personality. At first this may catch you off guard as you'll often spot him quietly doodling nearly anywhere, but his ability to convey the stuff of life in goofy and poetic glory will tickle you.
Laura Lewis
Laura Lewis is our new part-time printer at Raw Paw. Before I was lucky enough to work alongside Laura, I was a long time fan-girl and had only hung out and gotten high with them a couple of times, during which I'd quietly wish we'd hang more. Laura's predominantly a draftsman and designer for animation. You can see her character and prop color stylist work in action on the Amazon kids show, Danger & Eggs.  Keep your eyes peeled for some projects of hers in the works. Among being dedicated to her craft she will recommend the perfect plant for you and put on a supreme jam for y'all to get down to!
Nat Bradford
Nat had our attention before we officially had the pleasure of working with her when she contacted us to print for PWR. If you haven't seen Party World Rasslin' you are missing out! It's an indie-wrestling match that focuses on narrative and absurdist humor, for which Nat is the art director of and a performer in. Nat polishes dark emotions in a way that celebrates an aspect of gloom, interweaved with DIY attitude, from large scale installation work, set design, painting, screen-printing, and stick and poke tattoos. She does it all!
Montsho Jarreau Thoth
If you've ever met Montsho, you know that he commands attention, beyond his sleek stature is his special presence.  From the moment I met him, his way with words and sensitivity to even the tiny swirling details was apparent. Don't be fooled as he can appear serious, he'll break out into laughter and accents at random, keeping you guessing what's next. Lately, you can find him pouring tea at Guan Yin Tea House, experimenting with musical form in his bedroom, concocting herbal medicine and drawing up sigils. This sigil here is entitled, Hidden Sight.
models are // cecilia @midtwenties_adolescence_  dé @dayrandl3   deborah @moveondotcom