Chris Posted on December 05 2018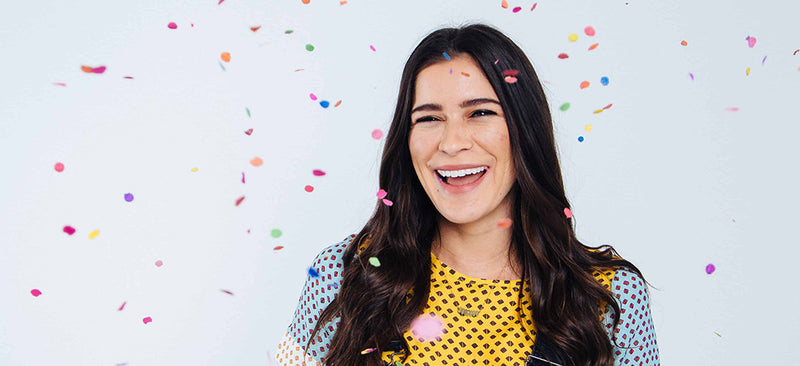 D'Anna Siciliano, y'all! She is a cheerful badass! She's our Account Executive at Raw Paw and Owner/Designer of Ponytail Mafia.
Interview by: Jen Rachid & Photos by: Jinni J. unless otherwise credited.
So off the bat, in addition to working at Raw Paw you run your own merch brand and have a background in teaching.
Can you tell us something someone would be surprised to find out about you?
People may be surprised to know that I can do a back flip and back squat 205 lbs, not at the same time though. 
Since it's holiday season, hence dessert season.
What is your hands down favorite dessert?
I don't mean to be too stereotypical Italian but my favorite dessert is definitely gelato, specifically from Dolce Neve on S 1st #sponsorme They have the BEST gelato sandwiches (pro tip: follow them on Instagram so you know when special flavors are being released) and the most delicious affogato. When I die, bury me in gelato. 
What was your favorite TV show growing up?
Well my mom didn't believe in paying for cable television, so we had the "normal channels." And like any typically developing 8 year old child, my favorite show was The Oprah Winfrey Show. After school snack and Oprah? Sign me up. 
My favorite show is The Great British Baking Show (if you haven't watched this yet, I am incredibly jealous because you have so much magic to live). I generally don't get into reality TV, but this is a competition baking show where everyone is so nice and helpful to one another, and there is NO PRIZE! Just the satisfaction of knowing that you are the best amateur baker in the UK. The show takes place surrounded by lush green scenery where sheep and baby ducks roam freely. It is so peaceful and beautiful. My other favorite show is The Sopranos. I guess it's all about balance ¯\_(ツ)_/¯
You make designs full of positivity and femme power for Ponytail Mafia.
Can you tell us a little bit more about how/why you got started, and what your biggest hurdles/lessons have been?
I would always tell Chris (shirt designer extraordinaire/bae) shirt ideas that I thought he should print and sell. One day he was like "why don't you just do it?" and I was like "DAAAAAAAMN, I SHOULD DO IT!" I started Ponytail Mafia when I was still teaching, and I felt so locked in by my career that I never thought I could so something in addition to it. I believe that things happen when they are supposed to happen, but damnit that would've been cool if I believed in myself sooner. 
My biggest hurdle has been feeling confident in my craft. Right after I make and release something, I immediately begin to feel self conscious about it and doubt that it's good enough. Putting my stuff out there has been a really vulnerable journey for me, but the lesson I've learned is basically to fake it til you make it. If you exude confidence in something, others will get excited about it too.
What you would tell someone trying to start their own business?
My best advice to give someone who wants to start their own business is DO IT! You don't need a detailed plan or $3,000 to invest. Start with something small and achievable and do it. I literally started by making 5 dumb t-shirts that no one wanted and I still have hanging in my closet, but it got me going! 
Creative resource or blog you love?
Jen Sincero's book You are a Badass has helped me immensely with planning, goal setting, and my anxiety. She teaches motivational techniques that you can use to change your attitude around certain hurdles or stresses in your life. I have never been a "self-help" sort of person, but she is amaaaaaaazing and now I'm self-helping all over the place! 
I collect the tears of my enemies. Just kidding. I don't collect anything. =) 
You can only have one super power, what is it?
I would 10/10 freeze time (I'm looking at you, Clockstoppers). 
modeled by: Mallory Zook
What kind of candy would you be?
I would be a Ferrero Rocher because 1) they're delicious 2) They are hard on the outside but creamy and full of surprises on the inside! 
You're given a plane ticket to anywhere, where do you go and why?
If I had a plane ticket I would 100% go to The Wizarding World of Harry Potter again but this time I wouldn't slam a Butterbeer right before riding the Forbidden Journey ride.  
What's your treat-yo-self protocol?
I treat myself every day because I LOVE MYSELF, okay? Easy treat yoself: adding creamer to your coffee, exercising, taking a bath. Extreme treat yoself: getting my nails done, laying in bed for most of the hours that make up a Sunday. 
What question would you add to this?
Who is your go-to character in Mario Kart? 
Easy, Yoshi. He is often overlooked but definitely a feisty little dinosaur that gets shit done.