Chris Posted on October 02 2018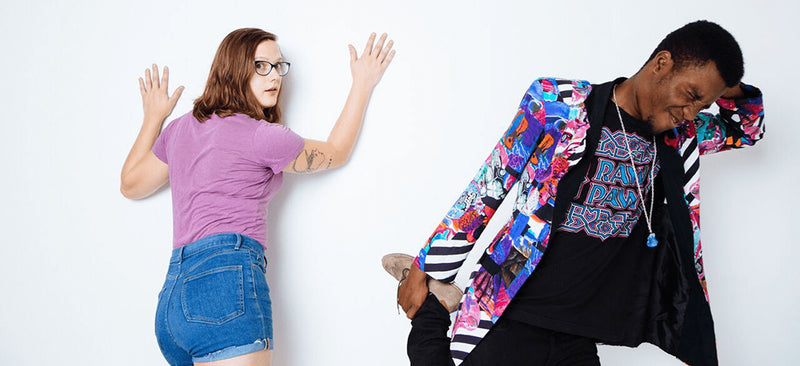 Austin Smartt (Left) Chris Hills (Right) Photo by

 

Jinni J
This year at Ditch the Fest, we have the amazing honor of featuring some of Austin's most hilarious talent during Comedy Hour. Meet Austin Smartt and Chris Hills, two of the comedians blessing us with their presence and wit alongside Pat Dean, Christina Parrish, and Andrew Clarkston this Saturday at Cheer Up Charlies.
Chris Hills
Photo by Jinni J
What are you trying to convey or make people think through your comedy?
Nothing really! I just want to make people laugh… Entertain them! I don't want to be too preachy when I'm on stage. I feel some people don't want to be lectured too all the time!
What's one thing a person reading this blog post should know? 
I'm single!!
Do you remember your first joke, if so, will you share? 
About my mom breaking down the door to whoop my ass!! My dad was there and I had never cussed in front of him so I was freaking out!
What makes you hopeful for the future? 
Just staying busy and staying creative!
Austin Smartt
Photo by Jinni J
What is a recent dream you've had that stuck with you? 
I had this dream last week that fucked me up emotionally. In it my mother and father got divorced because my mom wouldn't stop drunk driving in school zones and my dad openly laughed in the family's face when it was revealed that he cheated on my mom. He also laughed at me for being trans and having fallen in love (All in the dream. My dad is a wonderful person IRL). Then, in an effort to seek revenge on my dad and stop my mom from drunk driving in school zones I stole my mom's big black SUV, but in the process of that ended up in this big police chase. The chase did not go well and I was captured and taken to prison, which is where part two of my dream starts. Once in prison, I dedicated a lot of time to trying to figure out the black market and trying to make weapons out of anything I could find. I was very afraid because I knew a person I was enemies with was also in this same prison. Trying to feed and arm myself took up a lot of this portion of the dream. I felt constantly at risk of being attacked and had to sneak around a lot. Then, finally, I got into the third part of the dream where while I was making a shiv I discovered I was actually able to use The Force (like from Star Wars). I immediately abandoned making the weapon because I knew I could fight just about anyone with The Force on my side. Eventually I found out there were other Force users in the prison. We formed a group and organized a jailbreak. I woke up and had to go to work in the middle of the jailbreak.
What is the weirdest/worst experience you've had while you were on stage? 
Weirdest: One time I ended up getting pressured into doing a 15-20 minute set at a kink party I was attending. So I'm there in wearing only a thong telling jokes in front of a lot of naked, half naked, or kink garb adorned people who are all unfortunately sober b/c the ecstasy we took hadn't kicked in yet.
Worst (tie): Personally, the worst show I've ever done was when I was going through a phase of just riffing on stage and I got up to do the Open Mic at The Velveeta room and was pretty stoned, kinda drunk, on a tiny bit of Xanax, and ended up closing my set out taking an unfortunately pro-AIDS/HIV stance. I still have no idea how I got there or what the joke was but I remember walking off stage thinking "Did I just end my set wholeheartedly endorsing AIDS as a good thing?" And then I got back to the bar and my friend Arielle Norman goes "Well that is one way to get everyone in the audience to hate you."
I was mortified, but also sad I didn't record that set.
One time I did a show on the back-porch of a house that is directly next to I35 (like I could throw rocks at cars from the back-porch close). It was 20 degrees outside, there were two people in the "audience", and the hard-house techno act that was supposed to start after the comedy decided to start in the middle of the comedy. So we are outside, freezing, with no audience, doing stand up to the ambient drone of I35, with the not so ambient sounds of a local hard-house techno act pervading the air. Thankfully the upper pass of I35 was so close it was easy to get some mental relief imagining jumping off and killing myself instead of focusing on the jokes I was telling to nobody.
What's one thing a person reading this blog post should know?
I'm single and looking for someone to buy me drinks, spank me, and tell me what a good/bad little girl I am.
Do you remember your first joke, if so, will you share? 
I wrote my first joke before I started transition so I was still a twinky little gay boy, which is the only reason the joke worked. I don't remember exactly how it went because it was more of a rambling bit, but it started off with me talking about Freud, his theories, and how I like to make fun of him for symbolically sucking a big black dick all the time (the man had a thing for cigars). Then I went on to talk about how in the middle of making fun of him one time I realized that I might be a Size Queen, otherwise why else would I have spent so much time and money trying to buy the biggest bongs to suck the most white stuff I could out of it. I followed that with some truly classy pantomimes of me "smoking" a giant bong, complete with coughing/choking.
What makes you hopeful for the future?
My growing boobs and a bigger ass gives me hope for the future, because by the time the world inevitably goes to shit and we are all living in a post-apocalyptic wasteland my value as a sex slave will have significantly increased.
What are you trying to convey or make people think through your comedy? 
Kill the phonies.
One or Two Random Things:
1. Listen to my podcast Gender Fluids! We are on iTunes, Spotify, Stitcher, Laughable, and pretty much every podcast app. Even if you don't go listen to Gender Fluids, help us please our algorithmic overlords and go give Gender Fluids a 5 star rating on iTunes. Come on, fuck the system with us.
(Description) Based out of Austin, Texas, Gender Fluids takes an explicit and unapologetic look into the rarely explored depths of sex and gender. Through intensely candid conversations, comedians Austin Smartt & Arielle Norman dive into everything from birthing fetishes to what misgendering dogs says about our society. No subject is too far out, or too sensitive to be discussed. Subscribe to get all of the deliciously depraved anti think-piece commentary on sex and gender you could ever desire!  Not for the faint of heart, weak of mind, or lame of soul.
2. Here is my entire OkCupid profile. Strap in (or on)…it's long.
Self Summary
• I'm a transgirl.
• The phrase "You can take the girl out of the small town but you can't take the small town out of the girl" definitely applies to me.
• My tastes range from oddly pretentious to adorably Middle American.
• I'm a nerd to my core.
• So far as kink goes I prefer to be submissive, but I'm not unfamiliar with being dominant.
• I hate poorly placed exposed lightbulbs.
• I sleep with a pillow between my legs.
• I appreciate people who are able to have a casual conversation.
• Short Stop has my favorite fried chicken.
• I cry during all the wrong movies, i.e. I cry during Austin Powers and Talladega Nights.
• I'm a versatile lady, just as comfortable eating at El Primo or Angel's as I am at Jeffry's or Otoko.
• I firmly believe Scotch is just delicious liquid candy. I'm a sucker for a single malt.
• Austin is my real name. Not just my location or a screenname. 
Most of my time is split between work, performing stand up, and Ellie, my dog. I work M-F from 9-5. After work I go home and play with Ellie. Then, I typically go out to do stand up or record/edit my podcast, Gender Fluids.
If you want to get together I'm always down to grab dinner somewhere, have a few drinks at random bars, smoke and listen to records, take my pup the park, or get into some shenanigans.
I am not looking for a long-term relationship (but if it happens it happens). I don't want to make new friends. I am not looking for gal pals.
I am looking for someone who wants to hookup*, or casually date, or go around town getting into trouble, or have a blast with some kink/BDSM play, or go on fun dates that end with us heading back to one of our places for a good time.
If you want to lay in bed all day on a Sunday, order in queso, & watch tv for hours while cuddling —— I'm your girl! Seriously, cuddling has the ability to keep me from ever leaving the house.
*Hookup Disclaimer: If you're a cis dude we're gonna have to go get drinks before I decide if I want to have sex with you or not. I'm down for cis dudes to fuck me, but I don't like fucking cis dudes. Sorry to all the cis dude bottoms. Ladies of all types, I'm down to just roll the dice and have you come over or me to head to your place without having met before. Non-binary folks/everybody else, same as the ladies. I very much enjoy the culture of responsible queer cruising and believe casual sexual encounters can be safe, comfortable, fun, and empowering.
And yeah, I still have my dick
I could probably beat you at
A movie I've watched over and over and over again
(1) Star Wars, Episode V – The Empire Strikes Back
Six things I could never do without
(1) 1) Glasses/Contacts – I have horrible sight and hate it when I can't see or when my vision gets blurry for some reason. Sometimes I have nightmares where my vision is impaired.
(2) Orgasms – These are free fun. How could you live without that? (3) Cheese – I've loved every cheese I've ever been with, except for Blue Cheese and Goat Cheese. They are dead to me, and they know what they did. (4) Books – Nothing is better than a good book. Nothing. (5) My Family – They are cool as hell. We are very close. I see and talk to them frequently. (6) Music – If you could live without music I don't think you're human. "If I should ever die, God forbid, let this be my epitaph: THE ONLY PROOF HE NEEDED FOR THE EXISTENCE OF GOD WAS MUSIC" -Kurt Vonnegut
My favorite conspiracy theory
I heard this Alex Jones piece about how the government is pumping feminizing hormones into the air, which then trickles down into the soil and water, in an effort to feminize the population. I've never been more on board with something in my life. Who do I write check to in order to make sure this happens? Can we assure permanent funding for this endeavor so I never have to pay for hormones again?
When I die I will
Make someone very happy by bequeathing my record collection to them. I have 500+ records in my collection, not including 45s, and have no intention of ever giving up collecting them. Maybe I'll will my speakers (B&W Matrix 1s) and turntable (Rega Planar 2) to the same person that gets my records, or maybe they'll already have a setup so it'll go to someone else. Either way, a few folks are going to have better auditory experiences because of my death.
The most private thing I'm willing to admit
Just listen to my podcast, Gender Fluids! All of my most private things I'm willing to make public are on there.
You should message me if
You're not a dick and your first, second, and third messages aren't along the lines of "let's fuck".
Austin Smartt (Left) Chris Hills (Right) Photo by Jinni J