Chris Posted on November 27 2018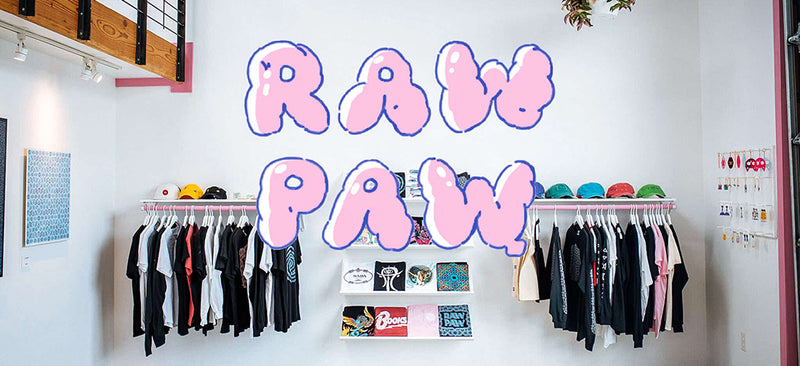 You can visit the Raw Paw store IRL and URL!
It has been a long time coming.
Now it is here.
Take a peek.
: )
We have curated a shop full of work from local and international artists today.
~~~~~~~~~~~~~~~~~~~~~~~~
You can find books from indie publishers such as Peow, Koyama Press, Shortbox Comics and others. You can find self-published zines, poetry, stickers, pins, mystery boxes. Snag apparel from the Raw Paw Artist Series — our most recent collaboration with artists in which we commission a design that we make into a limited edition of 25. Get a tee from this series while inventory lasts! There are sculptures that dazzle the eye from Sasha Fishman, lovingly hand-embroidered goods, fun shapes to hang from your ears, and so much more.
~~~~~~~~~~~~~~~
Come shop for the season at Raw Paw and other local businesses.
Water the grass around you
and see it grow.
~~~~
~
Check out the Raw Paw Artist Series Below 
Selected works by the Raw Paw team 
M-F // 12 – 6pm
Open Every Sat.  // 2 – 6pm
*(closed for the rest of November & Sat. Dec. 29th)
ONLINE STORE HOURS
24/7
~ ~ ~ ~ ~ ~ ~ ~ ~ ~ ~ ~ ~